Kate Lassiter (1906-2006) was a great granddaughter of Miles Lassiter, of Randolph County, North Carolina (Williams, 2011). Among Kate Lassiter's pictures was one of her in uniform. She was Kate Lassiter Trent at that time. She had told me that she had served with Special Services with the Third Army at Fort Benning (Georgia), during World War II. Unfortunately, I had not asked enough questions about that service, or about the uniform and the patch on her shoulder and cap. I really wasn't sure what they stood for. I had at one point submitted the picture to the North Carolina Museum of History for a virtual exhibit they were developing, but no one understood what her uniform represented, nor could I provide any information, so they did not include it. I tried to look for the patch on-line and even queried "Special Services at Fort Benning" and "Third Army," but nothing came up that was helpful. So, as one of my Veteran's Day related posts during the month of November, I decided to post her photo on my research related Fb page, Personal Prologue, and ask if anyone had any information about the patch and uniform. I boosted the post in order to attract as many people as possible in hopes that someone, somewhere, might know something.
The post quickly caught people's attention, but it was someone who was already a page follower, and who had ancestors from the Randolph County area, who quickly made the breakthrough. She found a reference to a book that answered the question. It was a book review on a web page called Books for Victory. The book was called, When Books Went to War, by Molly Guptill Manning (Houghton Mifflin Harcourt, 2014). Manning explained that during World War II, During the book publishers, libraries, and others donated millions of free books to US troops stationed around the world. Thus, the "Victory Book Campaign" held book drives around the country where they collected millions of books. Meanwhile, the Council on Books in Wartime, an association of publishers and booksellers, produced millions of pocket-size paperback editions that could be shipped around the world to soldiers and sailors. Supporting this project were the Special Services Librarians, part of the Women's Auxiliary Army Corps (Books for Victory, 2014; UNCG, n.d.a & b). They were considered part of Civil Service actually, not regular army. On the other hand, they had all the privileges of military personnel, such as PX privileges, and they could attend the Officers' Clubs (UNCG, n.d.a).
Special Services was originally called the Morale Division. These librarian and hostess jobs were officially authorized by President Truman under the Special Services division of the War Department during WWII. There were similar Special Services programs in World War I which created leisure "day rooms" for soldiers that were staffed American Library Association volunteers. In 1921, however, the Army created its own Library services. In 1923, Congress established service clubs/hostess houses.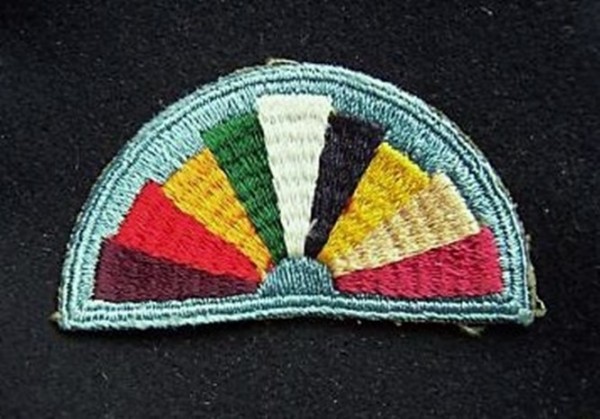 Special Services Librarians and hostesses wore blue uniforms with rainbow patches representing the nine different branches of the Army indicating that the librarians (and hostesses) worked for the entire Army. Their uniforms were worn at all times including at home, "if more than two guests were present" (Jessamyn, 2013). It was this uniform and patch that Kate was wearing in the picture. Thank you for your service, Kate!
References
Books for Victory. (November 14, 2014). When Books Went to War review. Books for Victory. Retrieved (18 November 2017) from:  http://www.booksforvictory.com/2014/?m=1
Jessamyn. (November 11, 2013). We remember: Army special services librarians. Librarian.net. Retrieved (18 November 2017) from:  http://www.librarian.net/stax/4214/we-remember-army-special-services-librarians/
UNCG. (n.d.a). Oral history interview with Winona Franklin Walker, 2003. Women Veterans History Project. Retrieved (18 November 2017) from: http://libcdm1.uncg.edu/cdm/search/collection/WVHP/searchterm/3631/field/pkitem/mode/all/conn/and/order/nosort
UNCG. (n.d.b). Winona Franklin Walker, circa 1945 [Image]. Women Veterans History Project. Retrieved (18 November 2017) from: http://libcdm1.uncg.edu/cdm/search/collection/WVHP/searchterm/2387/field/pkitem/mode/all/conn/and/order/nosort
Williams, M. L. (2011). Miles Lassiter (circa 1777-1850), an Early African American Quaker from Lassiter Mill, Randolph County, North Carolina: My Research Journey to Home (Palm Coast, FL: Backintyme Publishing). (See https://www.amazon.com/Margo-Lee-Williams/e/B007BWPYPG)